Back to all posts
Posted on
Fine Arts Night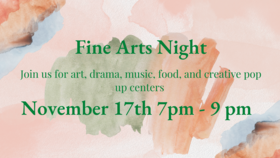 Thursday, Nov. 17 was a great night for Fine Arts at WCHS! Our students showed what they were capable of with music, drama, art, design, fabrication, cosmetology and baking. 
The night started with beautiful music performed by Mrs. Cox's band students. Later, there was a short drama production and then individual presentations by Mrs. Marshall's students. During these, one could wander the Learning Commons to see amazing examples of student artwork and Mrs. Rusin's class presented their gorgeous hairstyles. There were so many examples of the wonderful fine art work that our students can accomplish!
And the Treats!!! Thanks to Mrs. Kirameddine and Mrs Kruitbosh's students, there were so many great treats to try! There was cotton candy, sno cones, cheesecake, cookies and cupcakes. 
The night was busy, with many students, staff and family attending to experience WCHS's Creative Spirit. Thank you to all who attended and especially to ALL that organized and set up this great opportunity!