School Supplies
School Supplies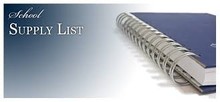 August 5, 2020 update:
In addition to the following unique lists for each grade level, please also ensure your child has a refillable water bottle and a backpack to store supplies in the classroom.
Note that if disinfectant wipes or hand sanitizer are included on the lists below, these items do NOT need to be purchased.
WCHS high school students will need binders, loose leaf paper and dividers for their courses as well as a supply of pens, pencils and erasers.
Math 10-C, Math 20-1, Math 30-1 and Math 30-2 students will need a Texas Instrument Calculator in one of the following models:
TI83 or
TI83 Plus Silver Edition
TI84 Plus or
TI84 Plus Silver Edition
For students in Grade 9, please click on the link below: